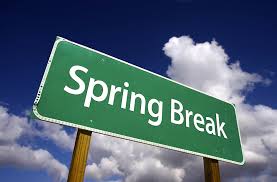 It's that time of the year again, MARCH BREAK or maybe you call it SPRING BREAK! if you're planning on taking a road trip to your favourite vacation spot, before you get behind the wheel, here are a few steps you can take to remain safe during your drive with your precious cargo!
Mini Driving School has some tips:
Inspect Your Tires – Walk around your vehicle and check all four tires for bulges and tears. You will also want to check the tread which helps keep your tires connected to the road. This is especially important when driving in wet conditions.
Check Your Battery – Make sure your battery is working at peak performance. It has been a very cold winter. Extremely cold weather can drain your battery, and your vehicle may not be ready for your spring break road trip.
Fill Your Washer Fluid – Keep your washer fluid filled. Never dilute your washer fluid with water. Having great visibility on the road is important to your road trip safety. You want to also make sure that you keep your wiper blades in great shape.
Pack an Emergency Kit – Prepare for any surprises by packing an emergency kit. A stalled vehicle is less than ideal when you hit the road for your spring break road trip, but it's always best to be prepared just in case. Some of the items in your kit should include a first aid kit, a flashlight with extra batteries, blankets and jump cables.
Get a Good Night's Sleep– Make sure to get enough rest so that you can operate your vehicle without becoming tired. Highway driving can be long and tiresome, and you want to make sure you are able to remain safe with proper handling and care in the driver's seat.
Once you hit the road -
Wear Your Seat Belt – It's very important for you and your passengers to ALWAYS buckle up. Having on your seat belt will help you remain safe in case of an collision.
Use GPS Navigation – Plan out your route in advance, the use of a navigation system will help to ensure you don't get lost on your journey.
Use Caution in Construction Zones – Construction always begins in the spring. It's important to drive extremely careful in these areas and avoid workers and their equipment.
Stay Off Your Phone! - We have all seen the stats for texting and driving and watched the horror videos of what can happen in a split second. Stay focused on the road, no distractions, especially on long haul drives.
Observe Speed Limits – Always obey the speed limits. It may be tempting to get to your spring break destination in a hurry, but, your safest way to get there is to follow the laws of the road, including the designated speed limits. Keep in mind that when driving in the US, each State may have a different speed limit!
Watch your Vehicle's Weight – Maintaining the proper tire pressure is key to getting to your destination without any issues like loss of air or a flat tire. Over packing your vehicle could have an adverse effect on tire inflation. Make sure to place the heavier pieces of your luggage in the middle of the trunk or cargo space. Distributing the weight from the middle will help prevent the brakes and steering from becoming negatively impacted.
The best way to enjoy your ride and arrive safe is to always use caution and drive carefully. This will help prevent most occurrences that might keep you from making it to the trip you have been waiting for since the beginning of winter.
Contact Mini Driving School if you would like to receive any more useful driving tips.